We Elena and Leif Bossen are russian and danish. Our wedding agency is a family run business in Denmark. We are located in the town of Ribe, on the border to Germany 85 km from Flensburg.
Denmark is a liberal country and is therefore also a place where people from around the world come to marry a partner of the same sex – something that is both very welcome and have been legally possible, since 15. June 2012.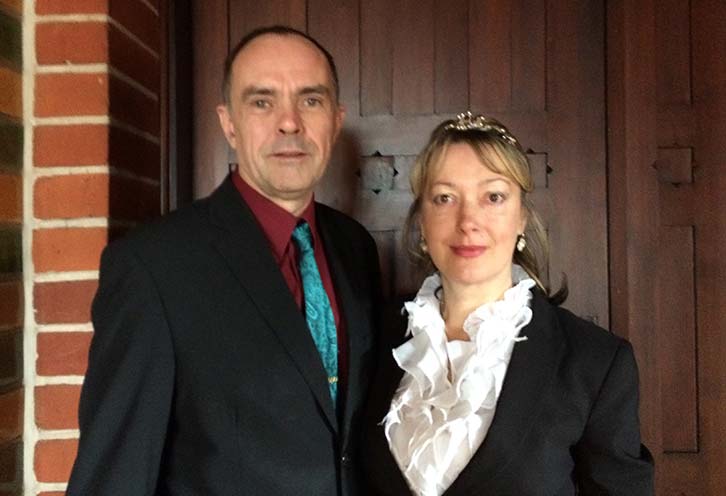 It can be a daunting task to start the marriage proces in a foreign country, having to deal with both the registration and the wedding ceremony and at the same time having to obtain documents and information from your home country, where the bureaucracy follows other rules – often it seems as if the systems try to obstruct each other – although it is not is the case. This is how the idea of a wedding agency started.
Elena came to Denmark from Estonia Tallinn in 2003. Her profession is educator but she also work in Church, while Leif is a teacher in Danish, English and German.
In the year 2013 we opened the small hotel Bossens B&B in our home and have since then received guests from all over the world with great pleasure. The open and positive people create a pleasant atmosphere and guests always have memorable experiences.
Based on our own and the experiences of many guests who stayed here before their wedding ceremony "Bossens' Wedding Agency" will hold your hand all through the wedding organization process helping to resolve the misunderstandings that may arise.
We will assist you in the process of exchanging information with municipal officials and collect documents making the paperwork simple, fast and convenient for you. "Bossens' Wedding Agency" helps to prepare all the necessary documents for registration of marriage required by the Danish authorities. The Agency cooperates with the 5 municipallyties: Esbjerg, Tondern, Aabenraa, Haderslev and Kolding. However we focus on the towns of Ribe, Aabenraa and Tonder.
For a quick marriage without bureaucracy and documents on end courses – please call or write to us. It is possible to submit your documents and get married just 4-6 weeks later (it used to be just 10-14 days, but as per 1 January 2019 Denmark has changed the rules for the marriges. Rules have been unified and the list of documents has been extended). Then you will get an international marriage certificate translated into 5 languages.