At Elena & Leif Bossen Heiraten, we are convinced that love thrive across national borders and sex. Therefore we welcome both gay and lesbian couples who want to be joined up in Denmark as well as we welcome heterosexuals. It still gives us great pleasure to think of the beautiful wedding of two Brazilian girls who visited our hotel the night before their wedding ceremony. They studied in London and wanted to marry fast to get back to their studies. Everything all went like clockwork – less than 24 hours after their arrival they were wife and wife.
It was permitted for persons of the same sex to marry in Denmark in 1989. What can be more romantic than saying 'Yes' to each other in the beautiful old town of Ribe or in front of the infinite Wadden Sea by Højer Sluse – a dream for both hetero- and homosexuals alike. At E&L we take care of all the practical details, ensuring you to get the right documents that gives marriages between persons of the same sex the same legal validity as marriages between woman and man.
Foreign Gay Couples Are Welcome in Denmark
On the 15. June 2012, it became possible for gay couples from abroad to get married. Since then Denmark has been a preferred place to be wed by gay and lesbian couples from around the world. If you get married in Denmark you will receive an international valid marriage certificate in 5 languages.
Should you wish it, the certificate can be legalized by the Danish Ministry of Foreign Affairs.
Dreaming of a romantic wedding ceremony in beautiful historic setting.In Denmark's oldest town of Ribe we are ready to welcome you!
With its more than 1300 year history Ribe is the perfect choice. The wedding ceremony can take place in the city's old town, which is more than 500 years old!  The unforgettable the scent of times gone by creates an aura of adventure and romance.
Ribe lies near the Danish-German border with just 50 km to Niebüll and 80 km to Flensburgand the airport in Billund a mere 55 km away.
We live in Ribe and have good personal contact with the authorities, not just in Ribe, but everywhere in the region.
We have our own little hotel just 300 metres from Bossen's Bed&Breakfast. www.ribebnb.dk city centre. Here we have two rooms and room for 4 persons.
We are open, friendly and very helpful.
Since we have lived in Ribe for a long time, we can be your guides and show you "The most beutiful small town in Europe" as UNESCO has chosen to call Ribe and the beautiful surroundings.
Wedding date will be reserved for you and we'll tell you individually about the next step in English, German, Russian or Danish.
Preparation of documents for registration is also something we take care of, so everything is ready for when in come for the registration. The wedding ceremony of homosexuals is not different from the wedding ceremony of heterosexual – when we look at the documents, there is no difference either.
Same-Sex Marriage in Denmark – Which Documents Needed?
A certificate from the national people register if you have not been married previously.
Divorce Declaration, if one of you has been divorced.
Death certificate if you are widowed.
Copy of passport (first page with personal data and photo.
Copy of valid Schengen visa.
The full list can be found here.
All these documents must be translated into Danish, English or German. Declaration of divorce or death certificate must be legalized.
All documents must be scanned and sent to us by e-mail.
Should any kind of problem occur – we will do our best to solve it.
Our Service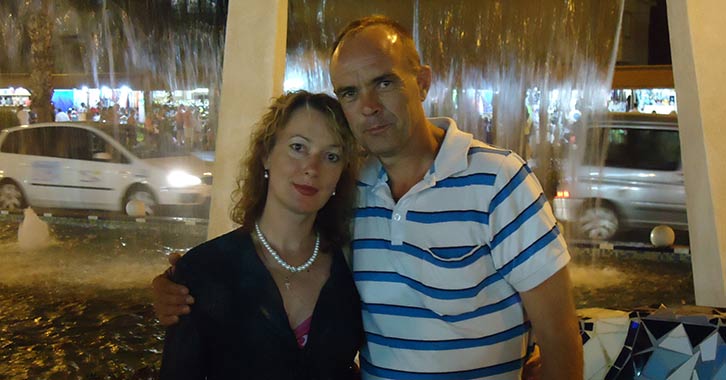 After all documents have been approved – and you have paid 50% of payment (our packages and prices are very competitive) we will send you an email stating place and time of registration. The last 50% is paid upon arrival at our place.
Approval by the Danish authorities typically takes 3-6 weeks (it used to be just 10-14 days, but as per 1 January 2019 Denmark has changed the rules for the marriges. Rules have been unified and the list of documents has been extended). The actual ceremony takes 25-30 minutes. Then two marriage certificates translated into 5 languages are issued. Some countries do not accept a danish issued marriage certificate. If this is the case the document must be legalised, which we can do or you can do it yourself.
Danes can change their name when marrying – foreigners must do this in their home country.
Please don't hesitate to call or write to us via e-mail or Facebook.
Elena and Leif Bossen.