Welcome to "Bossens Wedding Service"!
This is our family business, and we love it!
We are an international couple, I am Elena, a Russian woman, and my husband Leif is Dan We live in Ribe, in the oldest town in Denmark and Scandinavia, not far from the border with Germany, 85 km. from Flensburg.
We speak English, German, Russian and Danish. We know from our experience what bureaucratic difficulties international couples face when applying for marriage, and how bumpy the road to the cherished date can be for those wishing to start a family.
We have already helped more than 600 couples to a successful wedding. Even in the difficult year of 2020, we were able to help many couples get married in Denmark. In 2022 we helped more than 150 foreign couples.
It is very important to note that the application for marriage in Denmark is very elaborate. We complete it in Danish, therefore, the case is progressing faster, since the danish authorities are more willing to speak their native Danish.
Our task is to promote your wedding as we act as intermediaries between our clients and the Danish authorities. We work with the ID Centre, since it was established January 2019. The ID Centre is a single center with theauthority to approve your documents. The second part of our work is the commune, with which we set up the ceremony on your desired date of marriage.
Everybody is unique. Therefore, we approach each wedding individually, fulfilling your desires.
We meet you and get you settled, maybe in our family B&B hotel ribebnb.dk, our house is within walking distance of 500 meters from the center of Ribe, where you can marry. We also personally accompany you to the wedding ceremony.
Couples can choose us as their witnesses.
The important thing is that we live in Denmark directly communicate with the authorities, we know the people, the authorities and the laws.

Especially now in connection with the COVID-19 pandemic, where information changes frequently, we are quick to respond and receive fresh information directly from the Danish government.
Our office offers the following services:
Basic package
Price: € 1500,- (the State Fee of EUR 220,- is included).
This price includes:
Personal consultation by phone, email, Facebook.
Review and check of all documents.
Completion of the 20 pages Notice of Marriage.
Sending of all documents to the National ID-Center for final approval.
Reservation of your Wedding Date.
Reservation of hotel room (accomodation price isn't included).
Accompany you to the wedding ceremony in Esbjerg – and Varde Municipality.
Accompany you to the wedding ceremony.
Extra Services
Legalization/apostille of your marriage certificate + shipment by post – € 250.
The prices for these services are individual:
Transfer from the airport or train station.
Reserving and decoration of party-room / restaurant.
Wedding ceremony outside City Hall.
Barber.
Professional photographer.
Hairdresser.
Horsedrawn Carridge.
Limousine.
Elena and Leif Bossen
Elena and Leif are happy to help you!
Please contact Leif for more information:
Phone: +45 28744410 – Leif Bossen, speaks English, German and Danish.
E-Mail: [email protected]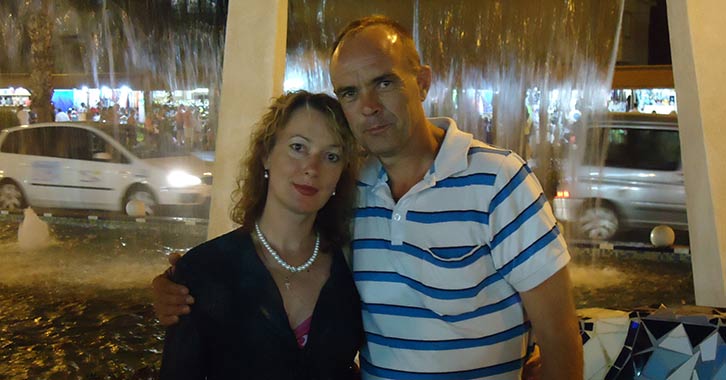 Testimonials: Here's what some of our customers say about our work
Here you can see the pictures of some of our happy couples
More photos can be found on this page (all the photos here are published with permission of couples depicted).