7 simple steps to the perfect wedding in Denmark.
Follow these instructions [UPDATED in 2023] and your marriage in Denmark will be a fantastic experience.
Power of Attorney
Step #1. To start the process of registration all necessary documents for the marriage in Denmark, you must fill out two forms, which are available on our website. These allow us to fill the very meticulous "Notice of Marriage" on your behalf.
Form 1 – Power of Attorney in English (pdf)
Form 2 – Signatures (pdf).
The necessary documents are:
Passport – all pages. *
Visa *
Civil status statement / Certificate of No Impediment.
Residency certification.
For any mutual children, attach the birth certificate(s)
In some cases Certificate of divorce/death.
* Does not apply to citizens of the Schengen countries + Norway, Sweden and Finland, who only have to supply an ID card.
Documents and signed forms must be sent to our e-mail address [email protected] (preferably as PDF files)
It is important that documents are sent to us no later than 5-6 weeks before the wanted wedding date, since the checking can take up to 3-4 weeks, before we receive the official confirmation from the ID Center and can inform you of the time and place of your wedding..
NB. These documents must be in Danish, German or English translated by a sworn translator.
Has your native country not signed the Hague Convention, legalization/apostille from a notary public is also required.
American and British soldiers, who are stationed in Germany, have to produce a list of additional documents upon request.
NB. It may be money wasted, to book tickets and hotel, before everything is in place.
Proper preparation
The documents must be scanned and sent as PDF files. Photoes is the second-best solution and can only be used if light and image quality is OK.
Passports, Visas and fx stamps in colour must be replicated in colour. E.g. passport can be spread to show 2 pages in one.
In the copies, it is important that all words and signatures are legiable.
Please send the documents in PDF format, no more than 10 MB.
If a copy is continued on another sheet, it is important that all words and signatures are visible. Then you deposit 50% to cover the preliminary expenses in our bank account.
Please check of the documents and payment.
Once we have received your documents we will check them for authenticity.
The official approval of documents, on average, takes 4-6 weeks.
As soon as the ID center approves the documents, we will contact you to set your preferred date to marry.
Then it is time to purchase tickets and make hotel reservations.
Do you want to be married in Ribe or Varde, you don't have to registrer in advance, but can do it at the ceremony. Registration simply means you present your ID or Passport in original version. That is why it is important to plan accommodation at a hotel, taking account of these deadlines.
In Ribe, we have our own little hotel/B&B (2 rooms for 4 guests) which can be reserved. Check out the website www.ribebnb.dk
Arrival in Denmark
We are delighted to receive our guests upon arrival in Danmark. We accompany you to the registration in the Wedding Office, where we also take care of remaining organizational and financial matters. It is possible to be driven to and from the airport or train station. Read more about this under the tab "Packages and Prices".
Your unforgettable wedding ceremony in Denmark
We recommend you come to the wedding site 15-30 minutes before the ceremony.
After coming there the only thing you have to think about is saying 'I DO' and cross the threshold into a new future, a new family.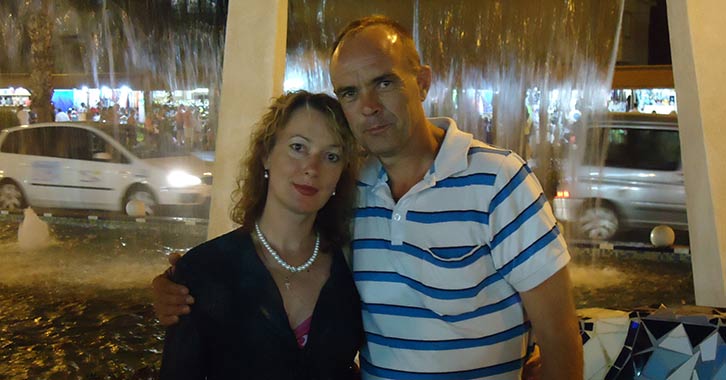 It will be a pleasure to assist you entering into the next phase of your life, by solving organizational and preparation problems.
You are welcome to call or write to us right now!
Phone: +45 28744410 – Leif Bossen, speaks English, German and Danish.
E-Mail: [email protected]