Get married in Denmark quickly and easily! We help you organize every detail
We organize your wedding in Denmark
1100 Euro per couple, including State fee.
📞 +45 28744410 - Leif Bossen
Our Experience with Bossens Wedding Service
More photos can be found on this page (all the photos here are published with permission of couples depicted).
Denmark is often associated with narrow cobbled streets that winds its path between the half timbered fairy-tale houses, spiced with breathtaking views of the beautiful surrounding countryside and with the fresh, balmy sea air in your nostrils. Romantics from around the world however have to think practically too, when they organize the wedding of their dreams. Often marriage is a conscious practical choice people make a chance to get married without the burocracy and fuzz associated with starting a common future especially with a person from a foreign country.

How to Get Married in Denmark? FAQ: Questions & Answers
What documents are required to marry in Denmark?
- Required documents: Passport in colour, all pages incl. front and back + all blank pages / ID Cards. Visa. Certificate of marital status (not older than 4 months). Divorce / Death Certificate.
Why use a wedding agency?
- We are resident in Denmark and have a good knowledge of the laws and regulations.
- Our service is "hand-held" and we follow your case closely from the first mail to the final YES.
Is it possible to marry a person of the same sex?
- Yes, the gender is not an issue when you marry in Denmark.
Can we get married outside the Town Hall?
- Yes, weddings outside the Town Hall are done in some places, at an extra fee.
When do we get the Marriage Certificate?
- The marriage certificate, which is made out in Danish, English, German, French and Spanish, is handed over at the end of the wedding itself.
Why Denmark is a brilliant choice
Wedding in Denmark is an opportunity for marriage, which especially appeals to people who want to marry a foreigner. It is popular among people who want to marry easily, quickly and inexpensively. Compared with other EU countries, e.g. Germany Switzerland or the United Kingdom Denmark offers the following advantages:
short list of required documents,
fast handling of documents,
liberal in relation to immigration and same sex couples who decide to marry in this hospitable country.
For example many german lawyers recommend their clients to get married in Denmark in cases where we are talking about a mixed marriage between a German and a foreigner from Russia, Ukraine, CIS-countries and other parts of the world, including Asia and the Americas. The entire process, from registration to the wedding only takes 4 – 6 weeks (in 2019). There is no time-consuming bureaucracy, as it is common in other countries. It is most practical in the first phase it is practical  to send all the necessary documents in copies by e-mail or fax. This will save money and time - because you sdon't need to visit your home country to collect various certificates and then send them personally to the selected Danish municipality.
Express wedding
Lynbryllup in only 24 hours is not only popular amongst Danes and Germans, if one of the spouses is a foreigner, but also amongst citizens of the European Union, when both are from the same country and want to get married fast. What you do is this: Get registered and approved by a chosen municipality in Denmark. When you are approved simply come to Denmark to stay overnight here, the next morning, get married in the Town Hall and go home again.

Wedding in Denmark of same sex couples
Denmark is one of the most tolerant countries in the world, so it is particularly popular among LBGT members to get married here. People who want to marry a person of the same sex, find absolutely understanding and full support. Personally, we think with great pleasure of the wedding of two women from Brazil which we attended. They stayed at our hotel before their wedding. It must be stressed that they planned to marry fast and it worked perfectly for them. The whole process took less than 24 hours.
Having your wedding ceremony in Denmark can be a dream come true. However without careful preparation and a thorough homework, it can become a bit of a nightmare. Our marriage agency "Elena and Leif Bossen" is at your service all the way, in order to solve any problems that may jeopardise your wedding. We help with:
submitting all the necessary documents according to the list,
waiting for their approval by the selected municipality,
we confirm the desired wedding date,
we smoothen the way to your happiness.
we book a hotel + fix other little things that make your wedding unforgetable!

Legitimacy of Danish marriage
Is a marriage made in Denmark recognised in e.g. UK or Germany? Yes, of course! The legitimacy of marriages executed in Denmark is beyond doubt legitimate, as confirmed by the demand of this service and the existing laws. The most important thing is to comply with the requirements of the marriage and family requirements in the country where the new family will settele. These terms can be regulated by  different rules and regulations in different countries. Family laws are, more or less the same in all EU countries, Therefor the Danish marriage certificate is certainly recognised almost all over the World. If in doubt, contact the Danish Ministry of Foreign Affairs, where the marriage certificate can be translated into the required languages and labelled with authentication/apostille. This is enough to recognise marriage within and outside of other European countries. Optionally, you can request a marriage certificate later in your home country on the basis of this document.
Necessary documents
In Denmark each municipality has its own rules and its own list of required documents, but the differences are minimal. Basically all citizens from different countries, who want to marry in Denmark, have to provide the following documents:
passport, copy of Passport-registration,
certificate of marital status (certificate of death or divorce),
certificate of registration (in Russian-speaking countries is This is normally a registration confirmation),
marriage statement.
In addition, citizens of non-Schengen countries also need a valid Schengen visa (or a valid residence permit from one of the Member States of the Schengen Union). For EU citizens such as German citizens all that is required is an id card.
Registration certificates and qualifications have different names in different countries and may be issued by different authorities. That is why we will only tell more about this when we talk to you personally. Although the rules are different in Norway, Germany, UK, United States or Switzerland, it is not meaning, but only the form. Certificates must be translated into 3 languages: Danish, German, English. Apostille is required depending on the country of almost all documents. Some documents have a limited validity. We tell you more about required documents  in your particular case in our personal contact.
Why is our agency the best choice?
We speak Danish, Russian, German and English. Thus it is no problem to communicate with you in different languages and with the Danish authorities. At your request, we can serve as a translator during the wedding ceremony in the Town Hall. Our marriage Agency is located in the beautiful city of Ribe in southern Denmark, 50 km from the german border. Ribe offers just that glossy image of cobbled streets that winds their way between half-timbered houses, while the stork is flying over the city.
It is easy to come to us by car and not far from us, in Billund, there is an airport. We can arrange pick-up and transport to other Danish towns for you. Before the wedding you can -with or without our help- choose the municipality is most suited to your wedding date and your wishes. We have established close contacts to all the municipalities in the area, making the entire process comfortable and flexible for you. In addition, we can offer the following services:

reservation of accommodation for you and your guests,
wedding party in a café or a restaurant according to your own choice,
Weekend wedding and marriage ceremonies on special dates such as 08/08/18 should be booked well in advance,
tell us about other wishes and we will do everything we can to meet them.
What does it cost?
1100 Euro per couple, including State fee.
Our services include:

personal phone conversation;
detailed information about documents for marriages in Denmark,
selection and reservation of the municipality,
agreement for the wedding, negotiations with the authorities,
checking of your documents,
accompany you to the registration,
filming/photographing the wedding ceremony - if desired..

If necessary, we can also be your witnesses at the ceremony and book a hotel room.
We also have our own little hotel where 4 guests can stay overnight (it costs less than at local hotels). After the wedding you will receive 2 governmental Danish marriage certificate, written in 3 languages. More detailed description of our services can be found on our website.
How do you start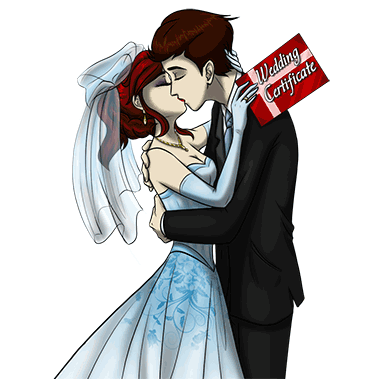 You can start right now:
Call us: +45 28744410 (Leif)
Or send us an E-Mail: [email protected]
Elena and Leif are happy to help you!
We will reply as soon as possible and give you personal detailed advice. After listening to your wishes we will do our best to meet them.
Our mission is to make your wedding in Denmark quickly, easily and beautifully!